Spray Starch
(Royal Spray)
"Royal-Spray" is a spray starch, developed for spray addition on the wire part. Royal-spray is customized for individual requirement of papermakers as it can be added on Fourdrinier machines, Formers, Cylinder moulds and can be added between the layers in multiwire Fourdrinier machines or formers.
In paper industry, starch is typically used at four places. These are wet-end (Cationic/Amphoteric), Spray on wire part, Surface Sizing and at Coating.
Royal-Spray is formulated to develop sustained and consistent results as the special ingredients help in retaining the physical strength propereties gained with the addition of starch. Wire part addition of Royal-Spray, helps in: Sustained improvement of Bursting Strength and some other dry strength properties, Improves internal bonding and ply-bond strength including RCT/CMT, Helps in improving retention of fines/fillers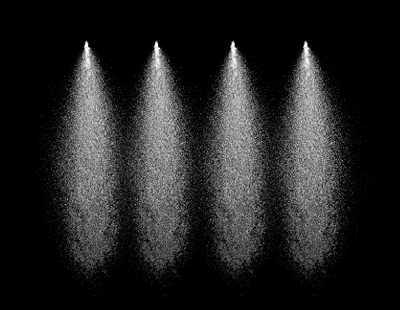 TECHNICAL
SPECIFICATIONS
| | |
| --- | --- |
| Source | Maize/Tapioca Starch Powders |
| Appearance | Fine, white, odourless, dry powder |
| Moisture | 12% (max) |
| Size of granules | Passes 85 mesh |
| PH of 10 % aqueous solution | 5-7 (as desired) |
| Ash (Dry solid basis) | less than 2 % |
| Viscosity (Brookfield),5% | 250-400 cp (variable as desired) |
| Gelatinizing Temperature | 64-72 °C (depending on source) |
| Retrogradation | No retrogradation upto 24 hours. |
METHOD OF PREPARATION
Prepare a lump-free suspension in fresh cold water by continuous stirring.
Maintain a gpl of 20-40 depending on requirement. No cooking is needed.
Slurry can be sprayed at the desired location on wire part suitably.
AVAILABLE PACKING
As a standard, it is available in 50 Kg. HDPE bags with inner liner.
However, special packing (like Jumbo bags/Paper bags/25 Kg bags) can be arranged as required.
HANDLING, STORAGE AND SAMPLING OF
PRODUCT
Do not use hooks, drag the bags on truck or any other platform.
Make sure unloading labours have clean hands and heads covered with clean cloth/cap.
Bags should be stored on clean dry platform, kept covered with clean piece of tarpaulin. Also ensure that the storage area is dry, covered, away from humid conditions, hazardous,explosive and aromatic chemicals.
Shelf life, if stored properly, can be one year.